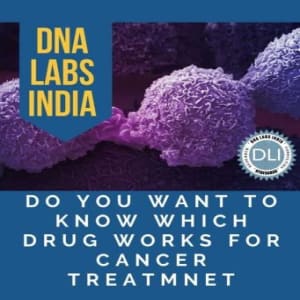 Liquid Biopsy Cancer Therapy Chemo Sensitivity Test
Disease: Oncology
Method: NGS DNA Sequencing
Results in : 10 Days
Test Cost: 20,000.00/- Rs
Liquid Biopsy Cancer Therapy Chemo Sensitivity Test Cost 20000 Rs
---
Liquid Biopsy Cancer Therapy Chemo Sensitivity Test Details
---
Frequently Asked Questions
What is the cost of Liquid Biopsy Cancer Therapy Chemo Sensitivity Test?

Cost of Liquid Biopsy Cancer Therapy Chemo Sensitivity Test is 20000 Rs

| | |
| --- | --- |
| Liquid Biopsy Cancer Therapy Chemo Sensitivity Test Price in India | ₹ 20000 |

What is a Liquid Biopsy?

A liquid biopsy is a simple and non-invasive alternative to surgical biopsies which enables doctors to discover a range of information about a tumour through a simple blood sample. Traces of cancer's DNA in the blood can give clues about which treatments are most likely to work for that patient.

Using Tumor DNA to Detect Cancer Early:

Tumours release pieces of DNA into the bloodstream that can be analyzed to obtain important information that may inform patient care. Treating these slow-growing tumours could actually do more harm than good, and "the risk of overtreatment is a major concern with early cancer detection.

Types of Liquid Biopsy:

There are several types of liquid biopsy methods; method selection depends on the condition that is being studied. In cancer studies, circulating tumour cells circulating tumour DNA (ctDNA) are collected. In heart attack diagnosis, circulating endothelial cells (CECs) are sampled. Prenatal diagnosis cell-free fetal DNA (cffDNA) is extracted from maternal blood. Amniotic fluid can also be extracted and analysed.

The Biology Behind Liquid Biopsies

Circulating tumour cells (CTCs) and circulating cell-free DNA (cfDNA) are the most studied liquid biopsy-derived biomarkers, but many others have also been investigated.

Can tissue biopsy be replaced by liquid biopsy?

Identification of tumour tissue of predictive biomarkers of response to targeted treatments is now mandatory for optimal patient care but faces several biological and technological challenges. Tissues biopsies also increase the cost of patient care and the turnaround time for getting results can be sometimes longer than those expected by the physician for patient treatment.

Can Tumor DNA May Aid Precision Cancer Treatment?

There is also hope that ctDNA-based liquid biopsies may guide precision medicine treatment by identifying unique molecular characteristics of an individual's cancer. In several research studies, liquid biopsies have pinpointed ctDNA mutations that could potentially be used to determine the optimal treatment.

What is the cost of Liquid Biopsy Therapy Chemo Sensitivity?

The cost of Liquid Biopsy Therapy Chemo Sensitivity is 20000 Rs

How many days does it take for reports?
₹20,000.00
₹30,000.00
33% off
Book Now
Free Home Sample collection for Liquid Biopsy Cancer Therapy Chemo Sensitivity Test

Ranked India No1 DNA Test Lab for Liquid Biopsy Cancer Therapy Chemo Sensitivity Test

Most Trusted Lab by doctors for Liquid Biopsy Cancer Therapy Chemo Sensitivity Test

100% Accurate Test Results for Liquid Biopsy Cancer Therapy Chemo Sensitivity Test