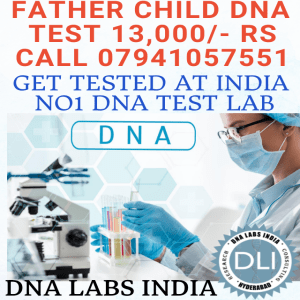 Paternity DNA Test
Disease: Psychology
Method: Relationship DNA Test
DNA Labs India is Ranked as No1 genetic DNA Test lab- 3500 Sample collection centers across India Call 07941057551 to talk with Doctor to get second opinion for free of cost - 100% All Conversation are private and confidential
Sample Types
Blood
Blood FTA Card
Saliva
Extracted DNA
13,000.00/- Rs
₹20,000.00
35% off
Why to get tested at DNA Labs India for Paternity DNA Test ?
Book Now
3500 Sample collection centers, Free Home Sample collection for Paternity DNA Test in your city

Ranked India No1 DNA Test Lab for Paternity DNA Test

Most Trusted Lab by doctors for Paternity DNA Test. Call 07941057551 to talk with Doctor to get second opinion for free of cost
Paternity DNA Test Cost 13000 Rs
---
Paternity DNA Test Details
---
Frequently Asked Questions
What is the cost of Paternity DNA Test?

Cost of Paternity DNA Test is 13000 Rs

What is the cost of a DNA Test?

DNA Test costs depend on the type of the test and number of participants being tested.

Is DNA testing legal in India?

Yes, DNA testing is legal in India. DNA testing can be used for various purposes, including paternity/maternity testing, and establishing biological relationships.

How accurate is the DNA test?

Studies have shown that DNA evidence is 99.99% accurate, making it one of the most foolproof pieces of evidence you can possibly use in court. Like fingerprints, no two people have the same DNA.

Can a DNA test be done with only a father and a child?

Yes, a paternity test can be done with just the child and the alleged Father.

Is the DNA test 100% true?

A DNA paternity test is nearly 100% accurate at determining whether a man is another person's biological father. DNA tests can use cheek swabs or blood tests.

Why do people need DNA paternity tests?

Establishing paternity can be important for several reasons. It can help:

Gain legal rights to child support, child custody, Social Security benefits and inheritance.

Identify links to genetic conditions that can affect your long-term health.

Is the DNA of the father and child the same?

Half the baby's DNA comes from the mother and half comes from the father.

Who must provide DNA samples?

DNA tests to establish a parent-child relationship must involve samples of genetic material from both parents and from the child or children.
₹13,000.00
₹20,000.00
35% off
Book Now
Free Home Sample collection

Ranked India No1 DNA Test Lab

Most Trusted Lab by doctors

100% Accurate Test Results