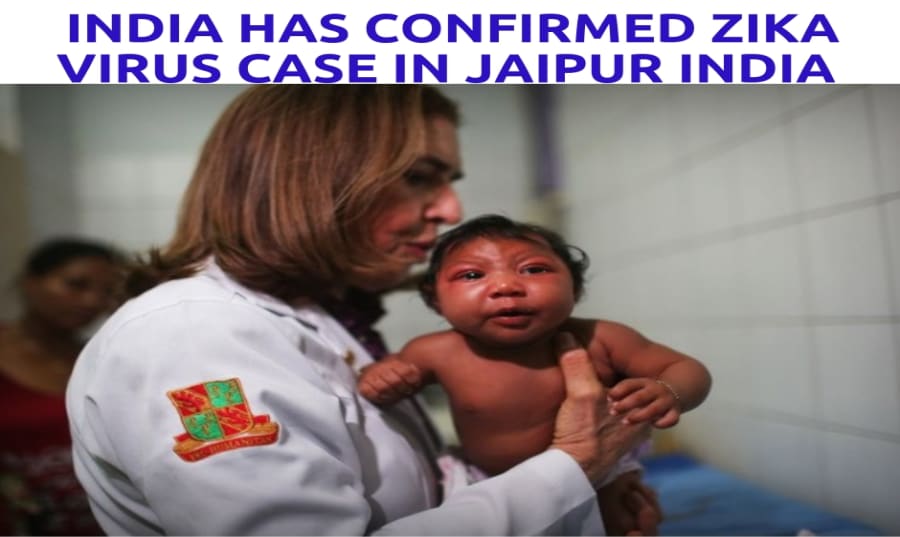 Zika Virus India Symptoms spread prevention Test
Zika Virus In India
A woman in Jaipur tested positive for the Zika virus which spreads through mosquitos, health officials said, adding that it was the first such case in Rajasthan.
The woman was admitted to the Sawai Man Singh (SMS) hospital on September 11 with joint pain, redness in eyes and weakness but she tested positive.
Samples sent to the National Institute of Virology in Pune for a test and the report came out positive, the principal of the SMS medical college Dr US Agrawal said on Sunday.
In the past three people, including a pregnant woman, were found infected with mosquito-borne Zika virus in Gujarat's Ahmedabad.
The cases were picked up during random monitoring and surveillance at the BJ Medical College in Ahmedabad, the World Health Organization (WHO) said. The patients were a 64-year-old man, a 34-year-old new mother and a 22-year-old pregnant woman.
In India, the Zika virus that has no cure or vaccine was first found in Pune 64 years ago, as part of a survey that was testing immunity to Japanese and Russian varieties of a virus-borne brain infection called encephalitis.
The first infection was detected in February last year, the second in November and the latest one this January. No new cases of non-fatal disease have since been found.
Zika virus in Hyderabad:
There are no confirmed Zika Virus cases in Hyderabad. Patients with symptoms of the Zika Virus in Hyderabad are referred for testing
Zika Virus in Bangalore:
One patient travelled from South America to Bangalore assumed as zika virus patient in Bangalore. Further confirmatory tests ruled out as zika virus
Zika Virus in Mumbai:
Due to a huge influx of people from various cities in India to Mumbai. One patient who travelled to Gujrat was suspected as a ZIKA virus patient in Mumbai. Pune virology labs said the samples were negative for zika virus
Zika Virus in Delhi:
Delhi has not seen any patient of confirmed Delhi patient.
Zika Virus in Kolkata:
Kolkata like Delhi has not seen any confirmed Kolkata patient
Zika virus in Chennai:
Some patients got admitted with symptoms in Chennai, as of now not a confirmed case from Chennai
Zika Virus in Ahmedabad:
had a confirmed case from Gujrat state.
Brazil is the most seriously affected country, with nearly 4,000 suspected cases of neonatal small head disease, which is suspected to be the main cause of microcephaly (neonatal small head disease).
Researchers at the Center for Disease Control and Prevention (CDC) confirmed that the Zika virus was indeed associated with microcephaly after evaluating the existing data, confirming the previous inference.
Zika Virus and history
The Zika virus was first discovered in Africa in the 1940s and has since spread to Southeast Asia, the Pacific island countries and the Americas. Since the Aedes mosquito that spreads the virus is available all over the world, the outbreak of the virus is likely to spread to more countries.
Since last year, the Zika epidemic has been rampant in Latin America and the Caribbean, and 18 countries have reported infections. In Brazil, where the epidemic is most serious, there are as many as 1.5 million people infected, and the number of suspected cases of neonatal small head disease has soared to 3,894 cases. It is suspected to be the chief culprit in the neonatal small head disease. Latin American countries have publicly called for women to postpone pregnancy. El Salvador has suggested that women in their country should not have children this year or next.
Event characterization
The WHO Secretariat believes that the current epidemic situation constitutes a "public health emergency of international concern".
Spread symptoms of Zika Virus
It is reported that the Zika virus spreads through mosquito bites. Common symptoms after infection include fever, rash, joint pain, muscle pain, headache, and conjunctivitis (red eye). The condition is usually milder and the symptoms can last from a few days to a week. Serious illnesses that require hospitalization are not common.
Earlier, the World Health Organization has said that investigators from around the world are investigating the link between Zika virus and neonatal microcephaly in Brazil. Thousands of locally born babies have not had the correct size of their heads in the past year or so.
On April 13, 2016, the US Centers for Disease Control and Prevention announced that the Zika virus is the cause of birth defects in the small head and several other fetuses.
A new study in Brazil confirms that the virus does have the ability to attack important nerve cells in the human brain. This provides new evidence for confirming the link between the Zika virus and neonatal microcephaly.
According to French International Radio on March 8th, AFP reported that French researchers said on March 8th that local time, in addition to suspected brain damage and adult nervous system diseases, is now also possible It is related to myelitis that causes convulsions.
On April 13, 2016, Brazilian scientists recently discovered that It can attack the central nervous system, triggering an autoimmune disease called "acute disseminated encephalomyelitis." The disease occurs mostly in adults and can cause symptoms such as acute hemiplegia, paralysis, and optic nerve disorders.
Zika Virus latency
The incubation period of the disease is generally 3-12 days.
How Zika Virus spread
The main route of transmission is Aedes bites, but evidence from a few infections suggest can spread through sexual contact
Zika Virus Responses
A WHO statement suggests that monitoring of microcephaly and neurological diseases should be strengthened, especially to study the causes of the outbreak of the disease, to determine whether it is directly related to Zika virus; in view of microcephaly Areas where concentrated outbreaks of nervous system diseases are newly infected, it is necessary to strengthen public health measures in these areas to reduce infections, especially for pregnant women and women of childbearing age.
Propagation prevention
WHO recommends strengthening surveillance of Zika virus infection, setting diagnostic criteria; prioritizing new methods for detecting infection; countries affected should strengthen publicity to ensure control from the root causes of viral transmission Strengthen personal protection measures; for infected pregnant women, suggestions should be made and tracked.
The WHO emphasizes that mosquito breeding grounds near residential areas are the most important targets for prevention and control. One is to reduce the breeding of mosquitoes from the source, and the other is to reduce the contact between mosquitoes and people. This kind of mosquito is mainly biting during the day, so it is recommended that elderly children and patients use mosquito nets during their daytime rest and sleep.
Sexual transmission prevention and control
Based on the precautionary principle, WHO recommends that if the sexual partners of pregnant women live or come from transmitted areas, they should adopt safe sex or abstinence during pregnancy; since most infections are asymptomatic, life People in the area where the virus is transmitted should consider adopting safe sex or abstinence. Other people returning from the affected area should also consider taking safe sex or at least abstinence for 4 weeks.
Prevention and control measures
WHO recommends strengthening research and development efforts on virus vaccine, treatment and diagnostic methods
WHO does not recommend any travel or trade restrictions on virus-affected areas, but can provide advice to passengers travelling to these areas. In addition, aircraft and airports should implement the World Health Organization recommended pest control standards.